Asphalt patio provides stylish, durable solution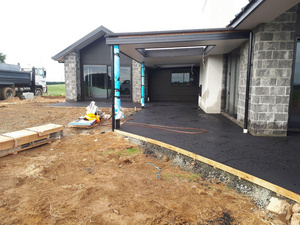 Considered the 'green pavement', asphalt is a 100 per cent recyclable construction product that provides a tough working surface for not only the roads we drive on or footpaths we walk on daily, but also flooring and paving.
Recently Supreme Site Works completed an asphalt patio for one of their Southland clients who was looking to add a unique touch to the exterior of their new home.
The time to complete the project was significantly less than if the homeowner had decided to install a wooden deck, and the result is both stylish and durable.
It is an ideal material for a whole range of construction applications where a smooth, seamless, hard-wearing surface is required, asphalt is safe, low maintenance and cost-effective choice for adding the finishing touches to your home, whether it be the driveway, pavement or patio.